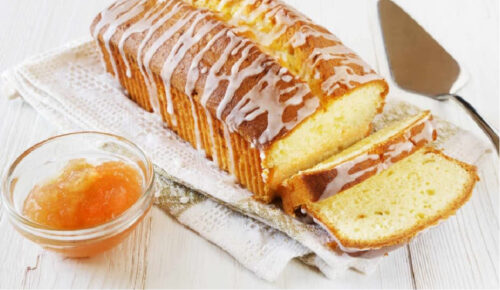 Ingredients
For the mixture
225g self-rising flour, sifted
½ tsp baking powder
225g xylitol (if not available, use artificial sweetener)
2 lemons, zest only
2 large eggs, at room temperature
125ml sunflower oil
1 tbsp milk
200g 0% fat Greek yoghurt
For the drizzle
1 lemon, juice only
50g xylitol
Method
Heat the oven to 180°C (160°C for fan-assisted ovens) or Gas Mark 4. Grease and line a loaf tin with baking parchment. Combine the flour, baking powder, xylitol and lemon zest in a large enough bowl.
Mix the eggs, sunflower oil, milk and yoghurt together in a separate bowl and stir them into the flour mixture.
Spoon into a tin and smooth the surface. Transfer to the oven, bake on the middle shelf of the oven for 1 hour – 1 hour 10 mins. Check after 50 mins, if the cake is becoming too dark, cover loosely with foil.
Make the drizzle by heating the lemon juice and xylitol. Stir over a low heat until the xylitol has dissolved. Once the cake is done, take it out of the oven and pour over the drizzle.
Cool in the tin before removing and serving up.