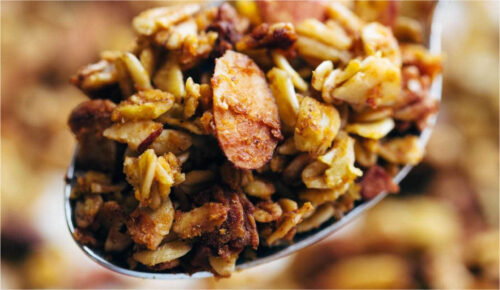 Ingredients
6 cups rolled oats
1 heaping cup sliced almonds
1 heaping cup pistachios (or other nuts)
1 heaping cup unsweetened flaked coconut
1 cup pumpkin puree
1 cup olive oil
1 cup maple syrup
2–3 teaspoons salt (see notes)
1–2 teaspoons cinnamon
Method
Preheat the oven to 350 degrees. Mix the dry ingredients together (oats, almonds, pistachios, coconut). Whisk the wet ingredients and spices together (pumpkin, olive oil, maple syrup, salt, cinnamon). Pour wet ingredients over the dry ingredients and stir to combine.
Bake the Pumpkin Granola
Spread the granola into a large non-stick jelly roll pan or cake pan. Bake for 15 minutes; stir; bake for another 15 minutes. Remove from oven and let rest – it should start to crisp up.
Eat and love: Store in a plastic zip-top bag for a week or so. Serve with granola, fruit, or just with milk.