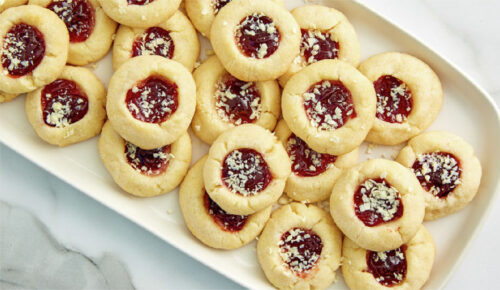 Ingredients
200g frozen raspberries
1 tsp vanilla bean paste
50ml maple syrup, plus 1 tbsp
1½ tbsp chia seeds
50ml rapeseed oil
½ tsp almond extract
190g ground almonds
30g flaked almonds, finely chopped
Method
STEP 1
Put the raspberries in a medium pan with the vanilla pod and 1 tbsp of maple syrup. Simmer over a low heat for 5 minutes or until the berries start to break down. Stir through the chia seeds and cook for a further 5 minutes. Set aside to cool completely, in which time it will thicken considerably. Spoon into a bowl and set aside until completely cool.
STEP 2
Heat the oven to 180C/fan 160C/gas 4. Line a baking tray with baking paper or a silicone baking mat. Whisk together the remaining maple syrup in a medium bowl with the oil and almond extract. Add the ground almonds with a pinch of salt and mix well until a soft dough forms.
STEP 3
Spread the chopped flaked almonds out on a small plate. Taking tablespoons of dough, roll into balls and then roll into the almonds. Transfer to the baking tray, spacing them 5cm apart. Using your thumb, make a hollow in the centre of each dough ball. Fill each hollow with ¼ tsp of the chia seed jam. You will have some jam left over – it will keep in the fridge for up to a week.
STEP 4
Bake for 16-18 minutes or until the cookies are lightly golden. Remove from the oven and leave for 5 minutes before carefully transferring to a wire rack. Leave until completely cool and firm.