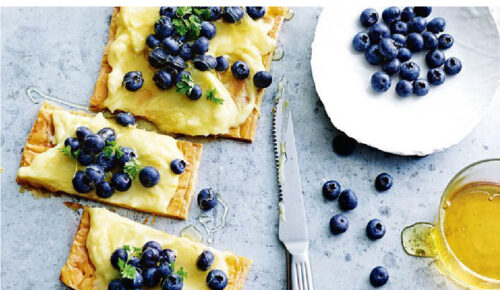 Ingredients
375g block frozen puff pastry, thawed
2 x 125g punnets blueberries
Micro coriander, to serve (optional)
HONEY & LEMON CURD
6 eggs
Juice of 2 lemons, zest finely grated
1/3 cup (115g) honey, plus extra to serve
1 cup (250ml) coconut oil, melted
Method
For the lemon curd, place all ingredients in a saucepan over low heat, whisking for 2-3 minutes until thickened. Set aside to cool. Chill for 1-2 hours to thicken further.
Roll out the pastry to a 15cm x 30cm rectangle. Place on a baking paper-lined baking tray and prick all over with a fork. Cover with another sheet of baking paper and another baking tray, then bake at 180C for 15 minutes or until crisp and golden. Cool.
Spread pastry with curd and scatter over blueberries. Drizzle with extra honey and sprinkle with micro coriander, if using, to serve.