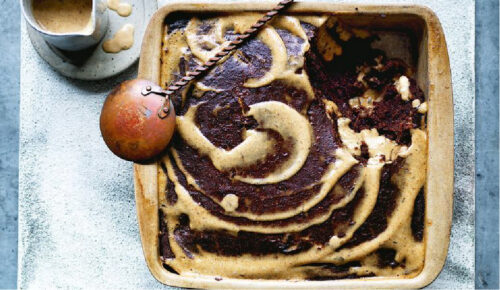 Ingredients
375g fresh medjool dates, pitted
150g buckwheat flour
3 cups (300g) almond meal
1/3 cup (35g) raw cacao powder
1 vanilla bean, split, seeds scraped (reserve pod for another use)
1 1/2 tsp bicarbonate of soda
225g solidified coconut oil
150g sugar-free dark chocolate (from supermarkets and health food stores), finely chopped
6 eggs, lightly beaten
300ml buttermilk
Warm vanilla and coconut sauce
800ml coconut milk
200g fresh medjool dates, pitted
2 vanilla beans, split, seeds scraped
Method
1.Preheat the oven to 180°C (fan-forced) and grease a 2.5L (10-cup) baking dish.
2.Place dates in a bowl and cover with 3 cups (750ml) boiling water. Stand for 10 minutes to soften, then drain and finely chop.
3.To make the pudding, place chopped dates and remaining ingredients in a bowl and stir to combine.
4.Spread batter into prepared dish, smoothing the surface with a palette knife, and bake for 50 minutes to 1 hour or until a skewer inserted in pudding comes out clean.
5.Meanwhile, for the warm vanilla and coconut sauce, combine all ingredients in a saucepan over high heat and bring to a simmer. Remove from heat, transfer to a blender and whiz until smooth. Set aside for 10 minutes to infuse.
6.Remove pudding from the oven and, using a skewer, poke holes from the top through to the bottom. Pour one-third of the sauce over the hot pudding and stand for 5 minutes or until the sauce is absorbed slightly.
7.Serve warm with remaining sauce.