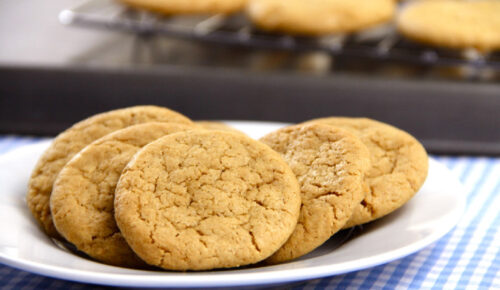 Ingredients
70g chopped walnuts
60g powdered almonds
60g porridge oats
100g melted butter
45g granulated sweetener
1 egg
1 tsp vanilla essence
1 tsp almond essence
Method
STEP 1
Place the walnuts, almonds and oats into a food processor or mini-blender and blitz into a fine powder.
Add the other ingredients (butter, sweetener, egg, flavourings) and blitz again to a smooth paste.
STEP 2
Use an ice cream scoop or tablespoon dipped in water to place balls of the mixture on a baking sheet (10 – 12 balls depending on the size). Flatten them with the back of the spoon and mark with a fork. (Dipping the spoon in water stops the mixture sticking to it.)
STEP 3
Bake at 180°c for 16 minutes. The biscuits will still be soft at this stage but leave them to cool and they will harden up and become crumbly. Store in an airtight container.