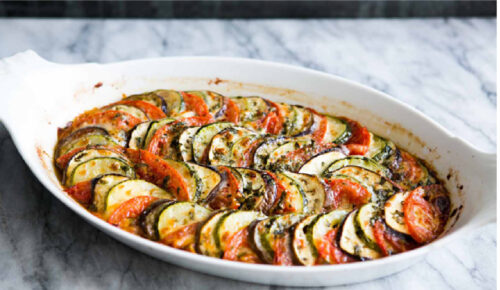 Ingredients
1 large aubergine
2 tsp rapeseed oil, plus extra for brushing
2 red onions, halved and sliced
2 peppers (any colours), diced
2 large courgettes, diced
2 garlic cloves, chopped
400g can chopped tomatoes
2 tsp gluten-free vegetable bouillon
1 thyme sprig, plus a few extra leaves for the top
handful basil, stalks chopped, leaves torn and kept separate
For the topping
1 large egg
150g pot bio yogurt
15-25g vegetarian parmesan-style cheese, finely grated
2 handfuls rocket, dressed with balsamic vinegar, to serve
Method
STEP 1
Heat oven to 220C/200C fan/gas 7. Cut the aubergine lengthways into long thin slices – once you have six slices, chop the remainder. Brush the slices very lightly with oil, place on a baking sheet lined with baking parchment and cook for 15 mins, turning once, until softened and pliable. Turn oven down to 180C/160C fan/gas 4.
STEP 2
Meanwhile, heat the oil in a large non-stick frying pan and fry the onions until softened. Stir in the chopped aubergine, the peppers, courgettes and garlic, and cook, stirring, for a few mins more. Tip in the tomatoes and a half a can of water, then stir in the bouillon, thyme and basil stalks. Cover and simmer for 20 mins or until tender. You can add up to half a can of water if the mixture is getting too dry. Stir through the basil leaves.
STEP 3
Beat the eggs with the yogurt, cheese and 1 tbsp water. Spoon the remaining ratatouille into a shallow ovenproof dish, top with the aubergine slices, then cover with the yogurt mixture and scatter with thyme. Bake for 10-15 mins until the topping is set and starting to colour. Serve with dressed rocket on the side.