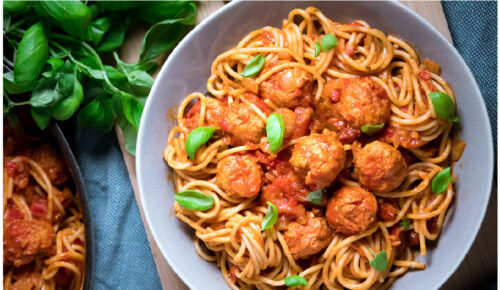 Ingredients
For the vegetarian meatballs
1 tin of kidney beans
1/2 tbsp olive oil
1 large clove of garlic, minced
1/2 onion, chopped
1 tsp oregano
1 tsp basil
1 tbsp tomato puree
1 tsp soy sauce
64 grams rolled oats
43 grams sunflower seeds
salt
black pepper
For the marinara sauce
1/2 tbsp olive oil
1 small onion, chopped
1 large clove garlic, minced
1 carrot cut into small pieces
1 tbsp tomato puree
59 mls dry red wine
1 can of diced tomatoes
1 tsp oregano
salt
pepper
For the Spaghetti
255 grams of whole wheat spaghetti
 Method
Cook the spaghetti according to the instructions on the package
Rinse and dry kidney beans. Put them in a medium bowl and mash them well with a fork or a potato masher.
In a medium pan, heat some oil and sauté the onions for 3 minutes. Add minced garlic and cook for another minute.
Put the sunflower seeds into a food processor (hand blender) and pulse until fine meal is achieved.
Add the sauteed onion and garlic to the mashed beans together with the spices and tomato puree, the soy sauce, the ground sunflower seeds and the oats then season with salt and pepper.
Use your hands to thoroughly mix everything. Then form about 12-14 vegan meatballs.
Preheat the oven to 180°c bake the vegan meatballs for 15 minutes. Carefully flip them half way through the baking time.
Alternatively you can also pan fry them. In a medium pan heat some olive oil over medium heat and gently roast the bean balls for 4 minutes until golden.
Make the marinara sauce:
In a medium pan, heat the olive oil over medium heat. Sauté the onions for 3 minutes then add garlic and the carrot. Cook for another 2-3 minutes. Stir in tomato puree and cook for 2 minutes.
Then deglaze with red wine and allow to evaporate. Add diced tomatoes and simmer for about 10 minutes. Season with oregano, salt and pepper.
Serve the spaghetti with the marinara and vegan meatballs and sprinkle fresh basil leaves.