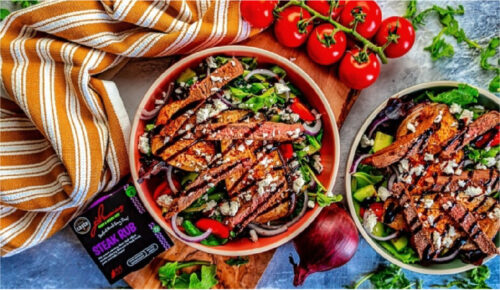 kcal 455 fat 30g saturates 9g carbs 20g sugars 4g fibre 6g protein 23g
Ingredients
1 aubergine, halved lengthways, cut into thin slices
2 tbsp flour
3 1/2 tbsp olive oil
1 sirloin steak
100g lettuce
50g feta, cut into cubes
For dressing
1 green chilli, halved and chopped
1/2 lemon, juiced
1/2 small pack coriander
Method
Dust the aubergine slices in the flour, mixed with some seasoning. Heat 2 tbsp of the olive oil in a large frying pan until shimmering. Add the aubergine to the pan and fry for a few mins on each side until collapsing and soft, then set aside.
Turn the heat, season the steak, then add to the pan and fry for 2 mins on each side for a rare ( longer if you want medium). Set aside to rest for 5 mins , then slice
Blitz the remaining olive oil in a blender or small food process with the rest of the dressing ingredients and a splash of water. When ready to serve, mix half the dressing with the lettuce, then tip onto a plate.
Top with the crispy aubergine and steak, crumble over the feta then drizzle the remaining dressing.