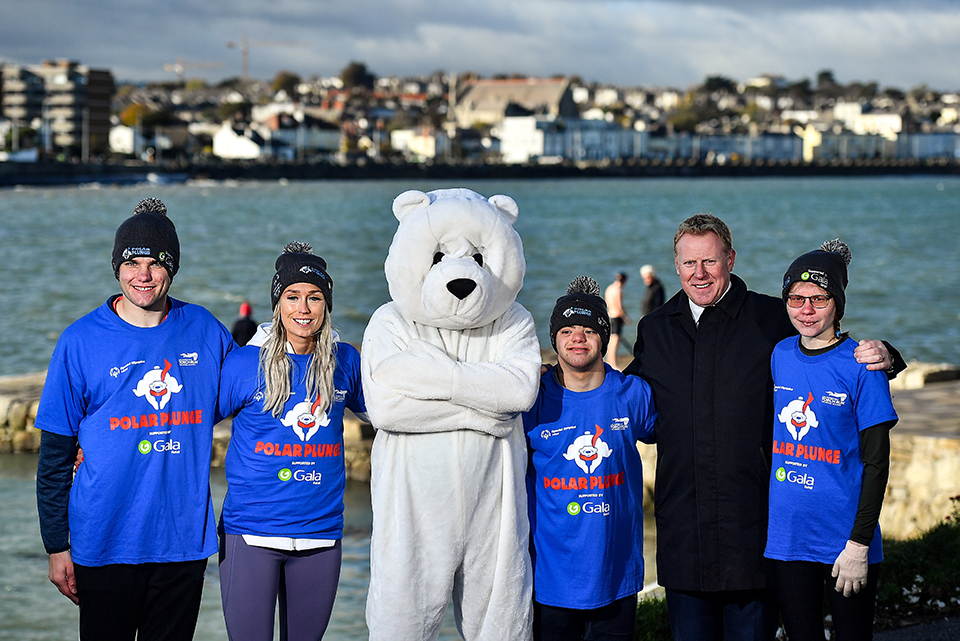 Special Olympics Ireland is calling on you to get freezin for a reason and take the Plunge for local athletes at Sandycove Pier.
Sandycove Pier is set to host the Special Olympics Polar Plunge and you're invited to join in and plunge into the Christmas season on Saturday 4th December from 11am and help support local athletes get back to the sport they love.
Having missed out on holding this sell out event last year, Special Olympics is delighted that its long-term charity partner, Gala Retail, has come on board to help make this year's event bigger and better than ever.
International soccer player and Special Olympics ambassador, Stephanie Roche was on hand to help launch the event today and said, "I'm here at Sandycove Pier today and have just had a trial run of the Polar Plunge and it's so much fun. It is a shock to the system when you first enter the cold water, but the buzz afterwards is amazing. I'm nominating my football team mates to take on this cold-water challenge and get freezing for a reason."
Those who think they are brave enough to take the Polar Plunge can register at www.specialolympics.ie. A donation of €25 will gain you access to the coolest event of the year as well as an exclusive Polar Plunge T-shirt. This year, Special Olympics is also encouraging people to take part virtually in the Polar Plunge, signing up, sharing their plunges and nominating friends on social media to get involved and take on the challenge. All proceeds will go towards helping Special Olympics athletes get back on the pitch, pool or court as they strive to get back to training and their friends in their clubs.
"As a platinum sponsor of Special Olympics Ireland, Gala Retail is thrilled to extend our partnership to support the Polar Plunge this year. Having focused so much on isolating over the past 18 months, we hope to see a community of plungers come out to Sandycove Pier to take part in the event or take part virtually and nominate others on social media, raising funds for Special Olympics Ireland and making this the biggest Polar Plunge ever!
"Meeting athletes like Edel here today brings it home how much the isolation in recent times has affected the lives of Special Olympics athletes and how valuable fundraising events like the Polar Plunge are. Edel's club is now back open and it's clear from speaking with her that not she is not only enjoying the physical benefits of being back to training with her club, but the social ones too." Says Gary Desmond, CEO of Gala Retail.
Special Olympics athlete, Edel Armstrong, was also at today's launch event. " I love swimming but the pool at my club was closed for much of the pandemic so I started open water swimming in places like, Sandycove, it kept me going physically but nothing can replace being with my team mates at my club. It has been great seeing them again. I call on everyone to support this fundraising event by signing up today. Who knows, you might enjoy the water more than you know."
If the live event on December 4th doesn't suit, you also have the option of taking on your own virtual plunge at your nearest beach, lake or even your bath or shower. Believe us; it's harder than you think. Spread the word and get more people "freezin for a reason" by sharing on social media and nominating friends to take part. Search Polar Plunge, Special Olympics Ireland or Gala Retail on your Instagram stickers to help raise awareness.
We nominate you to challenge yourself and your friends or family to experience the exhilaration of plunging into icy cold sea water. Are you brave enough?
This event would not be possible without the support of our platinum sponsor, Gala Retail.