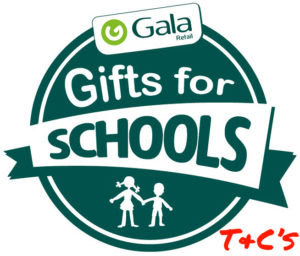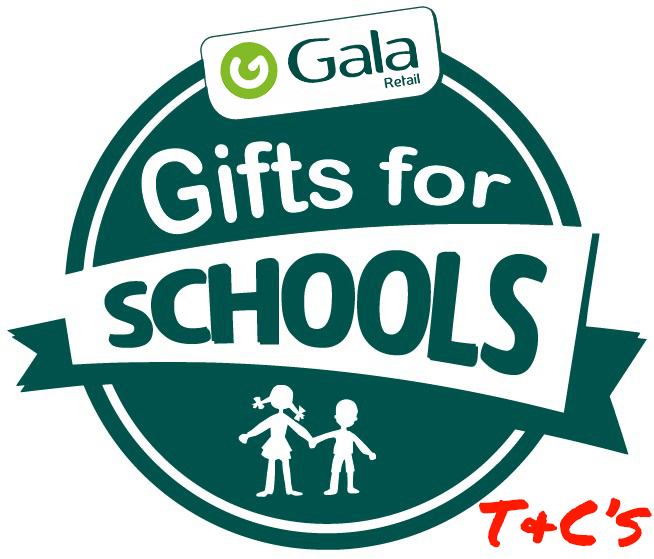 • Through its Gala Gifts for Schools competition, Gala Retail is giving away €30,000 of prize money six x prizes of €5,000 – to six Irish Primary Schools.
• Primary schools are invited to spend €10 or more in a Gala store to obtain a Gala 'G Sticker', Collect 200 stickers to fill the allocated space on the bottom section of the Gala Gifts for Schools Ireland poster and send back to Gala Retail Head Office (see address below) prior to the competition deadline 01.06.20.
• Schools may submit multiple entries
• Entrants must be employees of the school or have the School's permission to submit the Ireland Map entry on behalf of the school
• By applying, each school confirms that the entering teacher/school representative/Student participant has permission to make this application on behalf of his/her school.
• Only Primary Schools based on ROI are eligible to enter the competition
• This promotion opens on 1st March and closes on 1st June 2020
• Primary schools wishing to enter the competition must complete the Ireland Map sticker section and post back to Gala Retail Head Office before the competition closes to qualify for entry.
• All entries must notify Gala of entry via the Gala.ie website in the 'Gala Retail Gifts for primary Schools' area, where a school will be asked to enter school name, location and other requested mandatory information.
• Emails and other forms of entry are not accepted
• Prior to purchase please check Gala store is participating in Gifts for Schools competition.
• Bulk entries (meaning the use of any form of technology which allows multiple entries) are not allowed
• The promoter (Gala Retail) takes no responsibility for entries that are delayed, lost or incomplete or cannot be delivered for any technical or other reason.
• Successful applicants will be notified by 15th June.
By entering this Promotion, the school agrees to be bound by these Terms and Conditions:
1. Primary school name and county will be released in publicity if they win or are shortlisted as a finalist
2. School name and entry (including shots of pupils) may be used by Gala Retail for promotional purposes during and after the competition for an unspecified period, including a mention in press releases and online materials
3. Your data will be held by Gala Retail and can be shared with its estate of stores. It will not be sold and will not be passed to any third parties
4. Your data will be held for a GDPR compliant duration by Gala Retail and can be used for promotional and PR purposes for an unspecified period of time
5. Your data will/may be used for the following: (i)to check that schools comply with these terms and are eligible to apply; (ii)to notify successful applicants; (iii)to administer the Promotion; (iv)to evaluate the effectiveness of the initiative and to obtain schools' feedback; (v)if the initiative is a success and we repeat it, the data will be used to approach the schools to see if they would like to participate again.
6. Entry into the Promotion is acceptance of these Terms and Conditions
7. Entries will be randomly selected by Gala Retail Head Office.
8. The random selection shall be final and no correspondence shall be entered into
9. Gala Retail reserves the right to amend these Terms and Conditions or to cancel, alter or amend the Promotion at any stage.
10. Promotion is subject to the laws of Ireland
Promoter: Gala Retail, Summit House, Embassy Office Park, Kill, Co. Kildare, Ireland. W91 VK0T. PH: 045.910066
Gala Gifts for Schools 2019 Winners
Best Technology Project – Gaelscoil Eoghain Ui Thuairisc, Carlow
Best Ecological Project – Scoil Mhuire Junior Blakestown, Dublin
Best Health & Wellness Project – Scoil Safann, Donegal
Best Technology Project – Gaelscoil Eoghain Ui Thuairisc, Carlow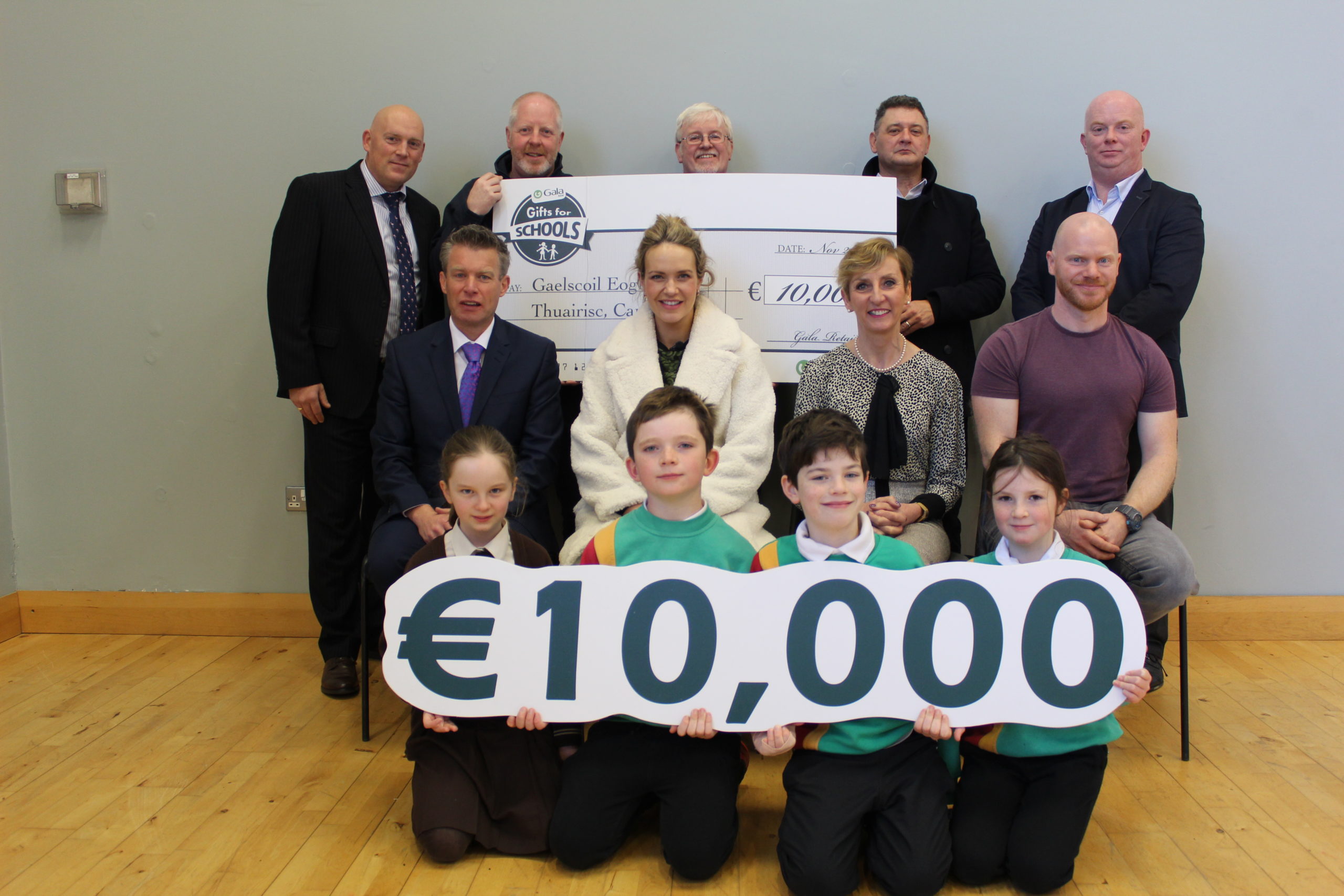 Best Ecological Project – Scoil Mhuire Junior Blakestown, Dublin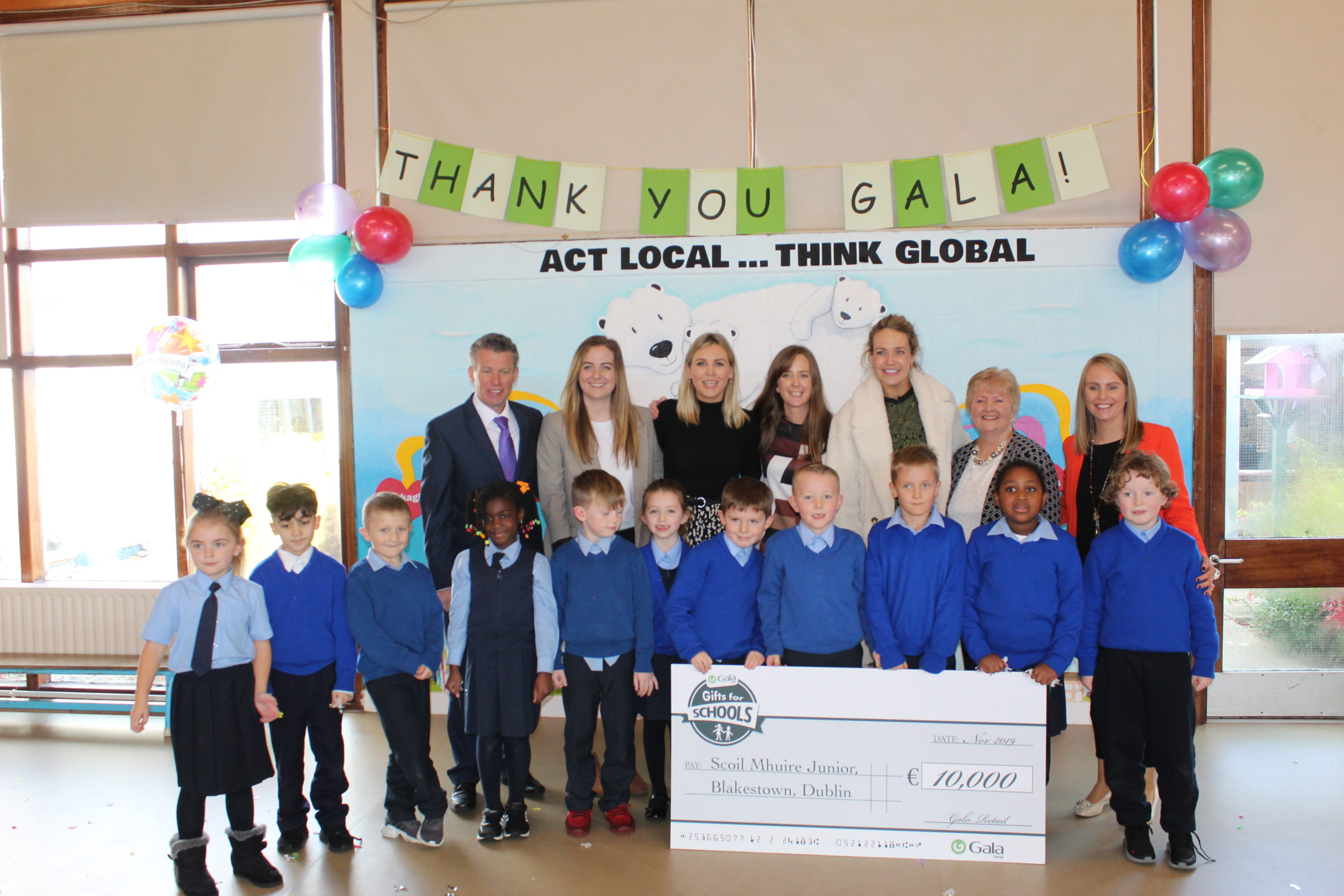 Best Health & Wellness Project – Scoil Safann, Donegal
Gala Gifts for Schools 2018 Winners
First place: Caherline National School in Caherconlish, Limerick €10,000
Joint runner up: Shinrone National School in Birr €5,000

Joint runner up: Scoil Naomh Iosef in Ballyheigue €5,000